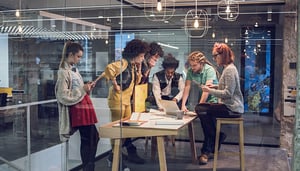 People dread meetings. While their objective might be to convey important information, manage performance or drive a project, meetings have developed a bad reputation as time-wasters. From office politicking to complaints and grievances, meetings have become a forum for anything but getting work done.
Many human resource managers are now realising the negative effects on productivity of having ineffective meetings. As we highlighted in our previous blog post, they can be huge productivity killers when not executed with an expected outcome in mind. Aside from breaking work momentum, it can be a time-consuming, fruitless effort when done wrong. That's why we came up with these key practices for effective meetings that will inspire, energise and unify your team.
Clarify the Meeting Objectives
Before you set that team calendar appointment, get clear on the purpose; what is the desired outcome from the meeting? Be specific, because if you can't define the desired outcome, you probably don't need the meeting.
Meetings should be clear in purpose. That way, your employees/department heads know what to expect and what is expected of them. After all, it's easier to stay on track when you know where that track leads and how it ends.
Practise Crowd Control
Keep the numbers down. Invite only those team members who can contribute to achieving the meeting's purpose. Less is definitely more than enough in this situation.
Assign One Moderator
Instead of opening up the floor to anyone who wishes to speak, meetings should have an identified moderator. Their role? To stay on point and ensure that the meeting is leading to true progress. What should be expected of an effective moderator? Here are a few characteristics you should look out for:
They should have an air of authority;

They should be knowledgeable about conflict resolution and power relations;

They should exhibit good time management skills;

The should understand the importance of meeting structure and manage the process effectively.
Ban Devices
When in a meeting, all the attention should be directed towards the person talking. Aside from the devices and tools that actually contribute to the meeting, other devices such as phones, tablets and laptops should be banned. Focus on the task at hand and contribute to the flow of ideas instead of interrupting (and disrespecting) colleagues by mentally wandering somewhere else. For extreme cases, collect devices before starting the meeting.
Stick to the Agenda
Effective meetings are structured and purposeful.
A meeting without an agenda is just a bunch of people in a room shooting the breeze. It's a guaranteed waste of time.
If you're setting the meeting, make sure you set a clear agenda. If you're invited to a meeting without an agenda, ask for one.
Keep it Short, Sharp and Straight to the Point
Think hard about how much time you really need for your meeting.
Remember, it's not a social event. Make sure everyone has prepared in advance and keep a tight rein on show ponies and meeting monopolisers (you know the ones we mean!)
Do a Quick Recap
After all the talk and considering all the opinions, meetings should conclude with actionable directives/tasks. A quick recap will help departments know what their role is or what expected of them after the meeting. Clarify the conclusions and decisions made to avoid misinterpretations. Ensure that everyone is on the same page.
Your employees are your most important resources. Get insights on making your Human Resource Department truly effective. Download our FREE eBook, The HR Pillar.