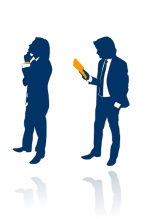 Minimalism in small businesses can easily be taken for granted, but it actually provides a great guide for entrepreneurs who start to feel overwhelmed with the complexities of their work. In the same way that productivity in the workplace starts with eliminating unnecessary tasks in your workflow, business owners should also learn how to de-clutter their business life to make the most out of their time.
Time is a particularly important resource for startups and small businesses, considering how each minute of the day represents money that is either earned or wasted. If you're not sure what else you can cut out of your schedule without turning into a neglectful owner, try simplifying these overlooked aspects of your business:
To-do lists
As a small business owner, the list of things you need to accomplish never ends. It's especially true for entrepreneurs who have taken on the CEO role themselves and are struggling with high-level tasks like hiring employees, bookkeeping and crisis management. To solve this, try to prioritise only three major engagements for the day. The rest should be able to wait until after you've finished. With only a half-filled schedule to work with, you'll be leaving more room to address unexpected issues without having to delay something else.
Unnecessary emails
This is something that both owners and employees can be guilty of. You'd be surprised at the amount of email traffic a small business owner can get even from working with a staff of ten individuals or less. The large amount of clutter in your inbox could be the result of your employees sending too many emails to each other.
If you have to, consider setting up email guidelines for you and your staff to follow. These can be simple reminders such as knowing when to send a private message to a co-worker versus hitting the reply-to-all button. Anticipating questions by providing the necessary information in one email is also more efficient than having to send a number of emails back-and-forth. Lastly, you can start specifying which of your emails require a response from your staff and which ones are merely sent as FYI's.
Meetings and reports
How often do you have to touch base with employees of a business through meetings and reports? The honest answer is: not all the time. Depending on the needs of the business, you could limit your regular meetings to mere minutes or even avoid holding them unless completely necessary. Meetings can be one of the biggest disruptors of an employee's workflow, so it's important to be sensitive to how much time you spend in them.
The same goes for regular reports. Aside from the ones that are required legally, business and project reports can be reduced by having other documentation systems in place (read: project management tools). Not only will this cut down on preparation time, it will also make viewing real-time data easier.
Finishing smaller tasks when you can
Getting a head start on your workload can seem impossible, but it's not always the case when you're aiming for business process improvement. Finding time to do things ahead of schedule can be a way for businesses to address repetitive tasks and avoid ones that become too large to handle. An example of being able to do this is paying for a service packaged for six months instead of being billed monthly for it. Staying on top of your bookkeeping is also crucial if you want to avoid being swamped with numbers when they're needed.
These are not the only things you can do to minimise inefficiencies in the business, but they are great and proactive ways for entrepreneurs to start
The myCEO service can also help you re-focus your business by identifying operational problem areas and managing them as your strategic partner. To learn more about how we've helped other businesses, you may download our case study.