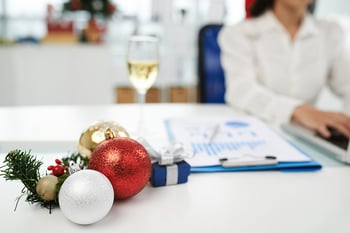 As the holidays roll in, the season's impacts (whether positive or negative) will start to show in virtually every aspect of your business. From your inventory, accounting books and sales records, to your employees' general mood and consumer behaviours, the holidays change everything.
With these effects of the holidays evident in the air within your place of business, any management or financial consultant worth their salt will tell you that the holidays can present unique opportunities for your business. It's all up to you if you'll fumble that chance or reap the rewards. To help you stay on track, we came up with some of the impacts of the holidays and how your business can take advantage of them.
Declining Sales for B2B Businesses, Booming Sales for B2C Businesses.
While not always universally true, most B2C businesses get sales boosts during the holidays. With consumers receiving all sorts of bonuses and incentives (as well as the permeating mood of generosity and bliss), it's not hard to convince consumers to buy products and avail services. To take advantage of this trend, consider price promotions to convince consumers and push them over the hesitation phase.
Meanwhile, B2C businesses often post limp sales records during the holidays. Since most businesses have already spent the annual budget throughout the year, some companies are already closing their books during the holidays. And with employees starting to go on vacation, transacting is not quite as direct and fast-paced as it usually is. Adjust to this trend by going against the flow and pushing for sales. While it is true that most companies have already spent their budgets at this point, others might have surplus on their hands that they can spend on various products and services that your business offers. Be aggressive on pressing for sales to companies that show signs of budget surplus.
Skewing metrics and cash flow predictions.
Since the sales record and consumer behaviours are not the same and not as predictable during the holidays, metrics and cash flow predictions become skewed. Will your customers be more generous or thrifty this season? Will the trends of the previous years prevail? Sudden sales boosts and slumps might not be good performance indicators. Still, keep your eyes peeled for persistent trends, undeniable facts and possible business opportunities hiding behind hazy numbers.
Clogs and Problem Areas Show
Increased demands for B2C businesses can trigger underlying problems in your operations. As numbers swell, choke points and problem areas begin to show. Keep calm and accept the fact that the best you could do when these problems manifest is patch things up temporarily. While coming up with unique solutions can help, sometimes, implementing them right on the spot can cause serious delays, setbacks and other (bigger) problems. Don't implement solutions that you don't understand yet.
For B2B businesses, the holidays can be a learning opportunity to find out what causes sales to slow down. Talk to clients and find out what your business can do to adjust. If sales really are declining, keep in mind that the holidays can also be an opportunity to earn new businesses. In between numerous corporate events, trade fairs and holiday parties, there are plenty of social events that CRMs and account managers can take advantage of.
The holidays can be a magical time for all sorts of businesses. It's just a matter of finding out how your company can use the festivities to reach your goals.
Which aspects of your business do you need help with? Talk to experts and seek out the challenges and opportunities for your company. Schedule a FREE, no-obligation consultation with myCEO management consultants, today.