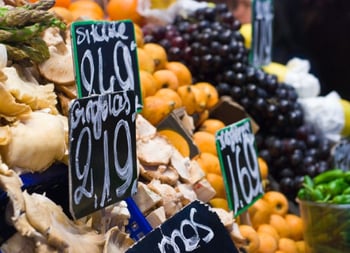 Understanding negotiations and the logic, ethics and strategy behind them is crucial for any entrepreneur. Whether an entrepreneur is on the receiving or giving end, price negotiation is about finding the price point where parties concerned are comfortable and willing to purchase a product or subscribe to a service. Any financial consultant will agree that price negotiations could also be part of a greater strategy in establishing power relations in a client-vendor relationship.
In terms of perceptions and relationships, giving in or resisting price negotiation can mean the following:
Giving in could imply that your product's/service's true value is actually lower than your initial asking price;

Clients/customers might think that you're desperate for a sale when you easily give in during price negotiation;

Driving a hard bargain might come off as having poor customer service/relations;

Being aggressive during price negotiations can significantly affect power relations; and more.
Here are a few tactics for entrepreneurs in handling price negotiations.
Research.
Being knowledgeable about industry/competitor rates is the first step in informed negotiation. Understand what factors are involved and how to best approach the deal without offending the other party or fully compromising your product's/service's worth. Talk about facts and the implications of the purchase/subscription on your business/customer.
Before negotiating, set a walkaway price.
It's important to know your priorities before negotiating the actual price. Aside from the financial/sales implications of price negotiations, it also has repercussions on the other party's perception, your reputation, power relations with people you deal/will deal with and many other discrete priorities. Set a mental price point where you can walk away in order to preserve your other priorities. Understand the value of your services/products as well as your value for other businesses' products/services. While your target price can be flexible, going several notches lower or higher (depending on whether your business is the receiving or giving end) than that price point might mean that you're simply talking to the wrong vendor/customer.
Find a way to satisfy your customers.
If your business is on the giving end during a price negotiation, shift the conversation away from the price and focus on the benefits of your product/service. Demonstrate value and convince your client that your asking price is worth it. If you have any other offers or value-added service, highlight that and talk about what you bring to the table. Find a way to satisfy your customers through means other than the price.
When negotiating as the client, learn when to stay silent.
Silence is an effective communication tool in negotiations as they can mean a lot (or nothing at all). By strategically using silence, you can make the vendor justify their price or put them in an uncomfortable situation that they'll need to rectify in order to please you.
Stay calm and confident.
Never negotiate under stress. Stay level-headed and confident when talking to clients/vendors. Negotiation is a two-way street that involves both parties. Focus on getting to the point where both parties are comfortable with the price. While initiating and setting the price anchor can help you get the better end of the deal by establishing the baseline, letting the other party talk can establish your willingness to compromise (which could lead to better business relationships). To a certain extent, this also gives you more room to give counter offers (since they established the price anchor).
Get a better handle of your company's finances by upgrading your management system. Download our FREE eBook, The Financial Pillar and get a deeper understanding of your strategic plan, budget and other key aspects of your finances.