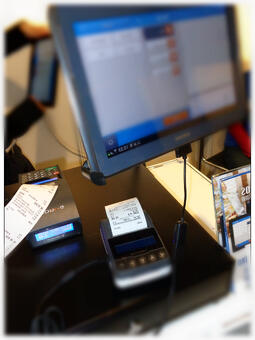 A common decision that business owners have to make is deciding between conventional checkout technology and POS systems that are out on the market today. While traditional registers can be an option for businesses trying to minimise equipment expenses, POS systems offer retail automation that is easier to integrate with the rest of your business software. This becomes especially important when thinking about your business's growth in the long run.
By looking into POS software, you can expect to see additional functionality and possibly even solutions that sync right with your smartphone or tablet. To determine which systems are capable and friendly enough to use, owners should be looking at these seven essentials:
Ring-up and basic accounting services

– payment transactions are definitely more accurate and efficient when employees at the register aren't doing the math using their hands. This is the most fundamental aspect of every POS system, so make sure the software performs well – and fast – in this aspect. You should also consider the software's capabilities for processing returns over the counter.
Inventory tracking

– if you're running a retail or merchandise-based business, you know how much of a lifesaver this aspect can be. One of the biggest advantages of using a POS system over separate cash registers is how it can give you an immediate assessment of your inventory, provided that your numbers are centralised. Owners in the hospitality and restaurant industry can even customise their POS systems to update their inventory list based on the ingredients of each item ordered.
Aside helping you monitor what you have on hand, an efficient POS system can also notify you how soon you need to re-order certain items and which ones are doing better than others.
Hardware, cost and mobility considerations

– you could own the most practical POS software there is and still be inefficient if you're writing receipts by hand or punching in items one by one. That is why it's important to consider which physical components, peripherals and interfaces are necessary for the kind of payment transactions you perform. Will you need an accessory for accepting credit or gift cards? Did you remember to refill the printer with a fresh roll?
Additional components will cost you more, so learn which setups give the most functionality for the dollar. These days, apps are considered as more budget-friendly alternatives and are better for handling transactions on the go.
Ease of use

–Make sure your interface complements the hardware you plan to use in terms of command and physical connectivity. You can also consider the look or simplicity of the user interface itself. Some business owners prefer touch-screen and graphic interfaces, while others prefer devices that require manual input.
Additional functions

– on the other hand, having a POS system equipped with added capabilities could be necessary for the kind of business you're in. For example, retailers may need systems that incorporate distinct tax brackets. If your customer needs to split the bill with someone, your system should also be capable of processing both transactions at one time.
It becomes easier to retain the system you're working with as your business expands when it's comprehensive enough to adapt. You'll know you're working with a decent one if it's simple enough for small business and versatile enough to accommodate functions a large business might require.
Secure data storage

– POS systems usually amass vital, real-time information about your inventory and customers, so it's best to use one that has reliable and secure both online and offline.
Reporting and marketing

– What to do with all the data stored in your system? Today's POS options are able to generate reports based on what is saved on your system hard drive. Use these numbers to monitor promos, freebies and even customers who regularly purchase a specialty item.
When you have a POS system you're confident about using, transactions with customers become less tense and prone to error. The checkout process is always a crucial experience for both you and your customer, so it's important to also invest in the right systems to keep transactions running smoothly. Focus on giving them top-notch service instead of worrying about technical difficulties.

Like point of sale transactions, the other pillars of your business also contribute to better sales and customer experiences. You can learn more on how to improve these processes by downloading our eBook.